Alicante es un destino para todos los gustos. Muchos piensan en playas llenas de gente cuando les hablan de esta zona de España, pero también existe la opción de visitar tranquilas y pequeñas calas. Así de variada es la oferta de sitios que nos esperan en la White shore.
Nosotros vamos a recomendarte los cinco lugares top que no te puedes perder a orillas del Mediterráneo en esta provincia. Y si vas a ir en autocaravana, caravana o camper, por supuesto que te contaremos dónde puedes pernoctar. ¡Y con reserva inmediata desde nuestra plataforma de Áreas Autocaravanas!
El colorido 'Mar Muerto' valenciano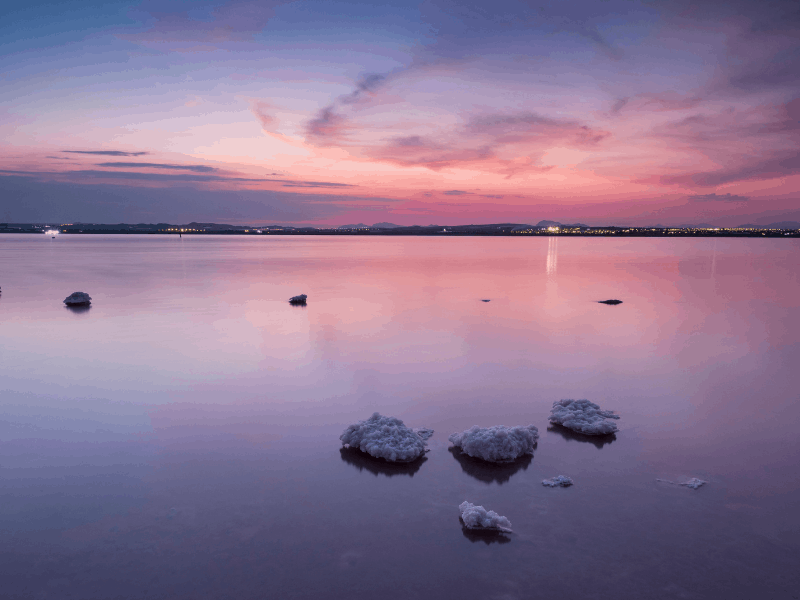 The nickname given to the Lagoons of La Mata se debe a la alta concentración de sal de sus aguas. Este factor, junto a la variante pigmentación de los organismos que habitan las lagunas, hace que adquieran un color rosáceo durante el verano y verdoso el resto del año. Además, es zona de paso para muchas aves migratorias.
Dato importante: está prohibido el baño. Para eso tienes in Torrevieja the beach of La Mata, con una extensión de más de dos kilómetros, o la pequeña Cala Ferri con sus aguas cristalinas.
You can get there from the interior of the province thanks to the nearby Catral Motorhome Area.
Senderismo, calas e historia en el Cabo de Santa Pola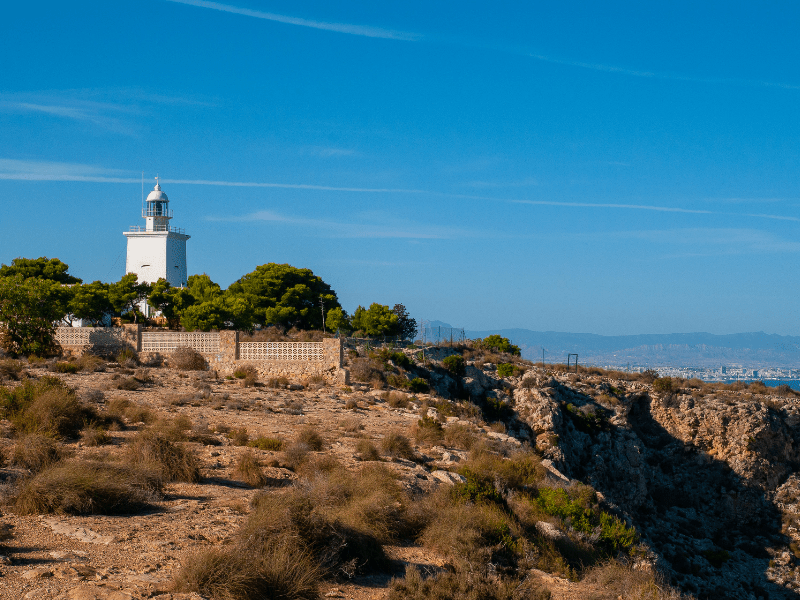 The Santa Pola lighthouse preside este arrecife de coral fósil, casi único en todo el Mediterráneo. Es un lugar habitual para hacer rutas de senderismo. También para disfrutar desde las alturas de las vistas de la Costa Blanca y varios sitios cercanos a lo largo del litoral. Los más aventureros pueden atreverse a bajar hasta alguna de sus pequeñas calas o descubrir antiguos búnkeres de la Guerra Civil.
Mientras disfrutas del Cabo de Santa Pola, puedes dejar tu vehículo en el Camper Santa Pola Area.
Go up to the Castillo de Santa Bárbara and see the Costa Blanca from the heights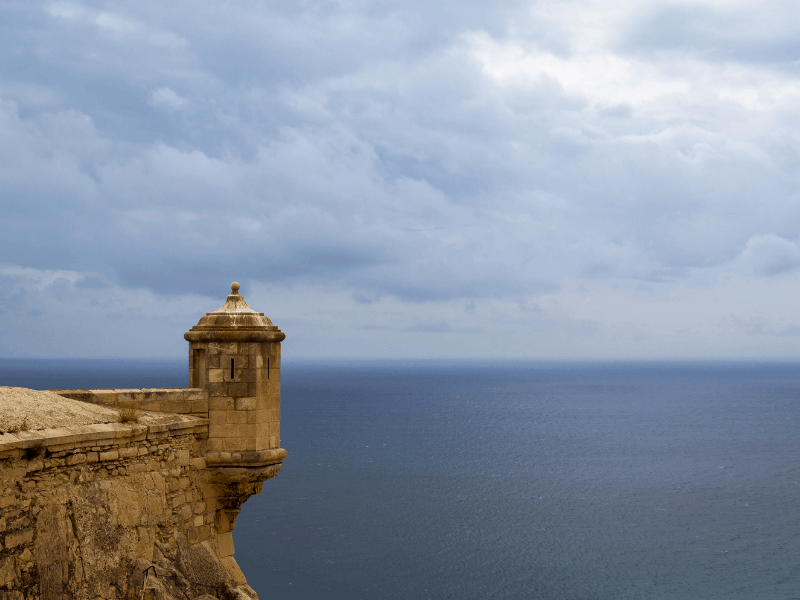 Another option with views is the Castillo de Santa Bárbara, en la ciudad de Alicante. La construcción se encuentra en lo alto del Monte Benacantil y preside la capital de la provincia, ofreciendo unas vistas imprescindibles del litoral. Entre otras cosas, verás la isla de Tabarca, a la que puedes ir cuando bajes para bañarte en sus preciosas aguas.
Después de esta apasionante visita, puedes relajarte en la Masphäel Farm. Es un espacio ecológico de referencia en la zona, que permite la reserva de plazas con tu vehículo.
The beaches of El Campello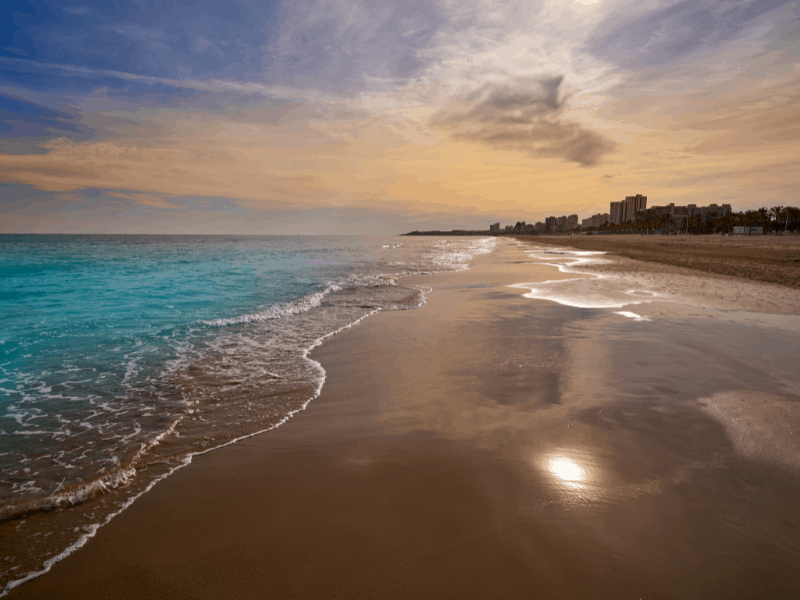 The Muchavista urban beach es la más famosa de la localidad alicantina de El Campello. Su extensión, que supera los 3 kilómetros de largo, garantizan un sitio en cualquier momento del año. ¡Hasta en los más multitudinarios! Es un auténtico gusto tumbarse en su fina arena dorada.
Si, por el contrario, te apasionan más las playas pequeñas, la opción es la Almadraba beach. Disfruta del paseo hasta la bajada de la playa, desde el que podrás ver el Illeta archaeological site. También puedes ir hacia el norte de El Campello, donde se encuentran varias calas desde las que te recomendamos ver el atardecer (siempre que estén orientadas al oeste).
In a very well located area of ​​El Campello you will find Área 7. De hecho, se encuentra a tan solo 500 metros de la playa de Muchavista. No te pierdas la experiencia de reservar plaza en este espacio, pues tiene una de las mejores valoraciones de todo el continente.
Calpe y su peñón de Ifach, sitios destacados de la Costa Blanca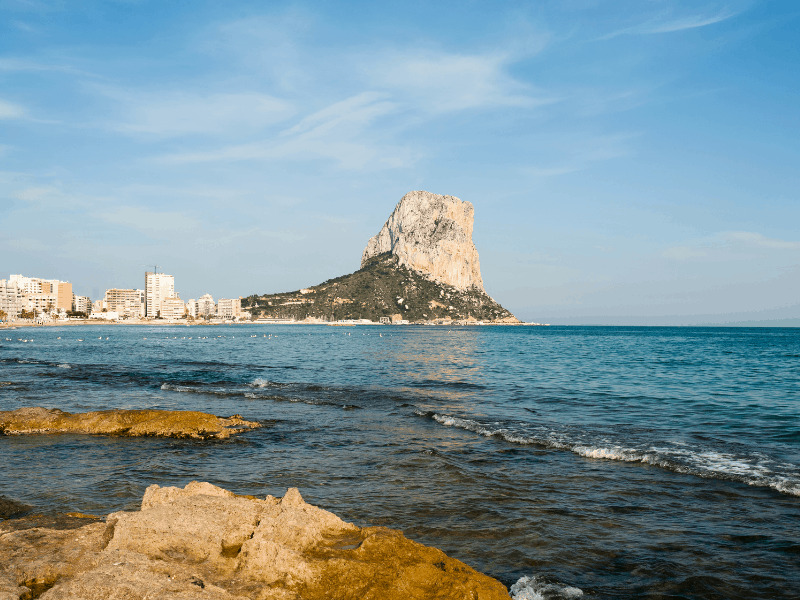 Visit Calpe it is mandatory if you want to know incredible places on the Costa Blanca. Puedes subir hasta las alturas del peñón de Ifach, con su propio Parque Natural, o bajar hasta las profundidades en la ruta de submarinismo de la cala del Racó.
Las Salinas, en el centro de Calpe, se han convertido en otros de los emblemas de la localidad. Tienes la posibilidad de pernoctar allí con tu autocaravana o camper en Paradise Camper. Tampoco hace falta salir del casco urbano de Calpe para dejar tu vehículo en las areas of rv Calpe Lights and Calpe Austral.