Become a provider of camper areas, camping grounds and gardens and experiences
for AREAS AUTOCARAVANAS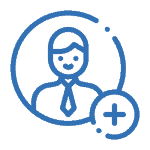 Sign up as a host
Become a host so you can showcase your business on
the platform. Signing up IS FREE!

Upload your business
Once we approve your application you can upload your
camper areas, camping grounds and gardens or experiences. You determine your prices, terms and conditions.

Start receiving reservations
We manage the payments and we take care of the
settlements of your benefits each month.
In addition to all of this...
You can upload any kind of camping spaces (areas), gardens and experiences (routes, meals, sports, adventures...).
You manage the calendar, the availability and the offer of your business.
You determine the price per night, per person and the additional services offered.
Remember: there is no cost for registering and posting your businesses on the platform.
Our profit is only a small percentage of each booking. Neither you or your guests will be charged any management fees.
You can count on us for any questions you may have. Contact us whenever you want.
Why will the benefits of your business increase at the Área Autocaravanas?
More visibility and more changes of new customers.
A reliable platform provides more security for travelers.
No worries about the management of the reservations. We take care of this.
The risks in economic transactions disappear.
Payment transactions on our platform are safe and secure.
You benefit from our advertising campaigns.