Asturias, beloved homeland! A region where nature and good food are of the highest level. In addition, Asturians are people who stand out for their hospitality with each visit. Sounds great, right? For this reason, we are going to recommend some places that you can visit in this wonder of northern Spain. And how could it be otherwise, we are going to recommend the occasional area and camping where to spend the nights in Asturias and surroundings.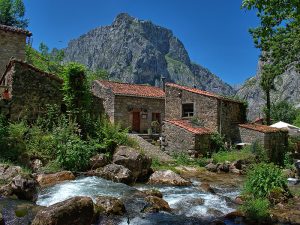 To convince you, we are going to tell you the reasons for dedicating an article to Asturias during this time of year. Surely they will be convincing.
It is a land that has always stood out for its rural tourism, the trend of summer 2020.
The offer of natural landscapes it is very wide and diverse, and it's all worth it!
Both lovers Beach like those of the mountain They have their destination here, since you can do hiking trails in the Picos de Europa or bathe in the waters of the Cantabrian Sea.
Pleasant temperatures during the summer, perfect for those who flee from the heat of other areas of Spain.
Places of interest to visit
After knowing the conditions of the place, it's time to know what places to visit in Asturias. You will see that there is everything:
The town of Taramundi. Asturian natural landscapes have magic, and that is the case of this small town, very close to the border with Galicia. The surroundings of this little town are Biosphere Reserve, a recognition granted by UNESCO.
Covadonga Lakes. A valley at the top of the Picos de Europa, so it is surrounded by unique views. Hikers adore this area for hiking on one of the roofs of Spain.
Cangas de Onís. There are two emblems in this town, and both are related. One is the Roman bridge and the other the Sella river, where adventure lovers can make their famous descent and spend an unforgettable day.
Senda del Oso. Its 22 kilometers are conditioned for cycling and hiking, surrounded by the beauty of nature. Also, if you are a little lucky, you will be able to see the bears that were rescued a few years ago and currently live there.
Cudillero. The most famous fishing village in Asturias, thanks to its beauty and color in the houses. It was built on the side of the mountain, a situation added to its original appearance.
Llanes. Another of the charming coastal towns, where El Sablón beach opens in an amazing way to the Cantabrian Sea.
Ribadesella. We continue to cross the coast and arrive at the mouth of the aforementioned Sella river. From which we can have great views from the viewpoint near the promenade. For history lovers, the Tito Bustillo Cave is a natural museum with cave paintings.
Cares Route. For the most daring, since you will have to walk narrow paths on the slopes of the mountain. But we assure that it is worth it, as long as you do not have vertigo.
Cabo de Peñas. Halfway between Gijón and Avilés, we can see the high cliffs and rugged terrain that the sea has formed over the millennia.
Silence Beach. Of the more than 400 km of coastline in Asturias, this beach is one of the best known. It is a paradise where you can relax and bathe, surrounded by cliffs.
Of course, there is much more, but these notions and recommendations will help you plan your trip. We invite you to discover Asturias in more depth when you are there.
Staying in an area or camping in Asturias
Whether in motorhome, caravan or camperWe encourage you to set up your base from which to tour Asturias in a campsite or space on our platform. For example, and although they are already in the province of León, there are several areas very close to its border with Asturias and also allow to know the Leonese mountains. Are the Camping Cistierna and the El Moriscal Area.
You already know, Asturias is waiting for you with open arms, so you have to discover it. You will surely love it!