We continue counting the days until the desired freedom. Summer is just around the corner and it will be the perfect time to get back on the roads of Spain with your motorhome. Because, this year, national tourism will be the great asset for travelers. A world of possibilities awaits you without leaving the Peninsula. So this vacation #StayInSpain.
Our country has unique corners to visit, with a great monumental and natural wealth. Magical places to enjoy a sunset or to dive in a millenary culture. Take advantage of it because this is the time to do it. Now we are learning to value what is close to us and Spain awaits us this summer.
And it will not be for lack of destinations! Imagine knowing the Cádiz coast, from Tarifa to Sanlúcar de Barrameda, bathing in its waters full of light. You can also peek at the end of the world from Finisterre or the Cantabrian Sea from its high cliffs. That without forgetting the afternoons next to mediterranean. And if your thing is inland tourism, the Giralda awaits you in Seville or sierra areas at various points, for hiking trails and breathing fresh air.
And to give you an idea, we leave you here the interesting gallery published by El Mundo, where they make a Ranking of the 10 best motorhome routes.
Advantages of spending the summer in Spain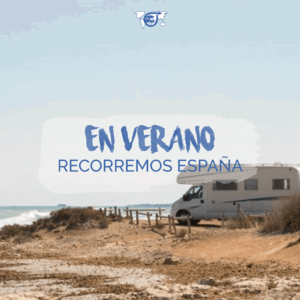 Along with everything we have told you, traveling through Spain in the coming months has some very convenient advantages for you and your vehicle. We go on to list them.
Extensive road network. Throughout the national territory there is a large number of roads, highways and highways equipped for the transit of motorhomes, caravans and campers. These roads allow us to move from north to south with great safety.
New places, but close to home. Surely there are many areas of the country that you still do not know and that would surprise you. Taking into account the recommendations of the authorities, we should not travel very far from home (even less abroad). Our country allows us to continue feeding the traveling soul without having to carry out long journeys.
Refloat national tourism. Do not forget either that, after this situation, the country's tourism sector will need a boost. We will continue to be there to support you, as the motorhome areas will be the great bet of this vacation.
Wide areas to stop. If you are going to travel in your motorhome, you will need a good place to spend the night. In Motorhome Areas we have a complete network of spaces for you to make your route without leaving Spain. You can reserve your place, located on a large plot for you and yours, thus maintaining the necessary distances from other users. A beneficial measure for everyone's health.
So you know. This summer will be different, but because you will be able to learn more about the riches of Spain. Stay tuned to the blog, because we are going to provide you with several recommendations so that you can plan a route that will become the trip of a lifetime. We will take care of making it possible.