Seguimos contando los días hasta la ansiada libertad. El verano está a la vuelta de la esquina y será el momento perfecto para volver a tomar las carreteras de España con tu autocaravana. Porque, este año, el turismo nacional será la gran baza para los viajeros. Un mundo de posibilidades te espera sin salir de la Península. Por eso, estas vacaciones #QuédateEnEspaña.
Nuestro país guarda rincones únicos para visitar, con una gran riqueza monumental y natural. Lugares mágicos donde disfrutar de un atardecer o para bucear en una cultura milenaria. Aprovéchalo porque este es el momento para hacerlo. Ahora estamos aprendiendo a valorar lo que tenemos cerca y España nos espera este verano.
¡Y no será por falta de destinos! Imagina conocer la costa de Cádiz, desde Tarifa hasta Sanlúcar de Barrameda, bañándote en sus aguas llenas de luz. También puedes asomarte al final del mundo desde Finisterre o al mar Cantábrico desde sus altos acantilados. Eso sin olvidar las tardes junto al Mediterráneo. Y si lo tuyo es el turismo de interior, the Giralda te espera en Sevilla o las zonas de sierra en varios puntos, para hacer rutas de senderismo y respirar aire puro.
Y para que te vayas haciendo una idea, te dejamos por aquí la interesante galería publicada por El Mundo, donde hacen un ránking de las 10 mejores rutas en autocaravana.
Ventajas de pasar el verano en España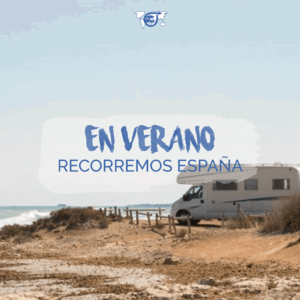 Junto a todo lo que te hemos contado, viajar por España durante los próximos meses tiene unas ventajas muy convenientes para ti y tu vehículo. Pasamos a enumerarlas.
Extensa red de carreteras

. Por todo el territorio nacional existe un gran número de carreteras, autovías y autopistas acondicionadas para el tránsito de autocaravanas, caravanas y campers. Estas vías permiten desplazarnos de norte a sur con mucha seguridad.

Lugares nuevos, pero cerca de casa

. Seguro que hay muchas zonas del país que aún no conoces y que te sorprenderían. Teniendo en cuenta las recomendaciones de las autoridades, no debemos desplazarnos muy lejos de casa (menos aún al extranjero). Nuestro país nos permite seguir alimentando el alma viajera sin necesidad de llevar a cabo largos trayectos.

Reflotar al turismo nacional

. No olvides tampoco que, después de esta situación,

el sector turístico del país necesitará un empujón

. Nosotros seguiremos estando ahí para apoyarlo, pues las áreas de autocaravanas serán la gran apuesta de estas vacaciones.

Amplias zonas donde parar

. If you are going to travel in your motorhome, you will need a good place to spend the night. In Motorhome Areas we have a complete network of spaces for you to make your route without leaving Spain. You can reserve your place, located on a large plot for you and yours, thus maintaining the necessary distances from other users. A beneficial measure for everyone's health.
So you know. This summer will be different, but because you will be able to learn more about the riches of Spain. Stay tuned to the blog, because we are going to provide you with several recommendations so that you can plan a route that will become the trip of a lifetime. We will take care of making it possible.