There is no greater joy than traveling again. Get in your motorhome and feel the road as you approach a new destination. You already choose if it will be an unknown place for you or you want to know new things. This time, we are going to visit algarve by motorhome and we want you to be part of this adventure.
For those who do not yet know this region of the neighboring country in depth, this short guide will help you discover a fascinating land. Its culture, its landscapes and its history will captivate you. Surely those who have already been know what we are talking about.
During this route we will not only visit essential places, we will also leave you our personal recommendation to spend the night with your motorhome and make a quick reservation from the Platform of Áreas Autocaravanas.
adventurous experiences
The Algarve is a luminous region with a thousand corners that are worth exploring. Some of them, for true adventurers:
Cape of San Vicente. Let's start with the icing on the cake, almost literally also if we take into account that it is the westernmost point of the Algarve. The sunsets are some of the best in the Iberian Peninsula, so go find a place and don't miss them.
Route of the Seven Hanging Valleys. The coast is full of cliffs from which to see unforgettable landscapes. This route, near Marinha beach, allows you to enjoy them in all their splendor.
Piedade Bridge. This rock formation is one of the most complete from our point of view. Whether it is to go down the cliff and touch the Atlantic or go kayaking, this site is one of the most impressive in the Algarve.
Benagil Cave. A postcard landscape under a rock dome. That is this natural temple that you can only access by boat or kayak
The beaches you must visit in Algarve
It doesn't matter when you decide visit algarve by motorhome, its beaches will always be the main attraction. In summer you can take a refreshing bath or sunbathe (with more people around, yes), but this plan can be repeated the rest of the year if the temperatures are favorable. If not, there is always the option of taking long and comforting walks by the sea. A good way to disconnect, without a doubt.
Next, we advise you to take your browser and register this list with the Beaches that cannot be missed if you are going to travel to the Algarve on board your motorhome:
Beach of the Three Brothers
Cala de Carvalho
Subamarino Beach
Martinhal Beach
Playa de Carrapateira
Playa de Marinha
In this case we are not going to go into details because it is best to discover these destinations for yourself. But hey, we are going to leave you some photos to open your mouth ...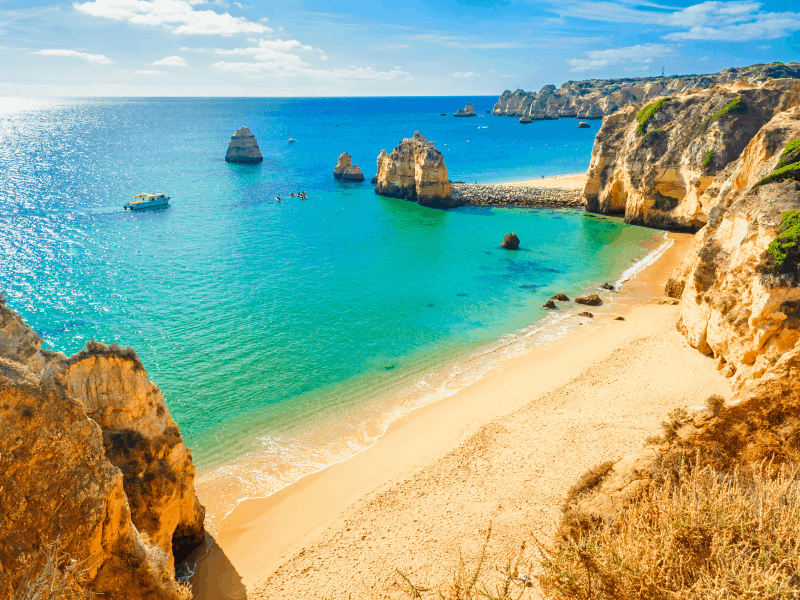 Much more than sun and beach
But the Algarve has other places to discover. Its heritage is present in its cities and its people, so cultural immersion is another of the charms of the region. This appointment with history is concentrated, above all, in five cities with their own way of being, but always in tune with the prevailing spirit in the area.
Lighthouse. The capital of Algarve is the third city in the country that receives the most tourism. The cathedral and the entire old town contain a historical legacy that recalls the passage of various civilizations.
Lagos. A municipality that concentrates the purest essence of the Algarve, sunny and relaxed along its cobbled streets and monuments such as the Forte da Ponta da Bandeira.
Tavira. On the banks of the Gilão River, this charming city is a labyrinth of streets that preserves the layout that the Arabs once devised.
Olhao. Locality with a fishing tradition from which to look out over the Ria Formosa. Its market is one of the most picturesque in the region. Do not miss it if you want to try the wonderful local fish or have a drink on the terraces of its bars.
Portimão. It is the largest city in the western Algarve. Over time it has become a tourist epicenter thanks to its beaches, shops and restaurants. You can't miss out on the promenade.
Where to spend the night in Algarve with your motorhome
Between visits, it is best to relax in a quiet and natural environment to complete your goal of visiting the Algarve by motorhome. Therefore, the most advisable thing is to stay in Mikki's Place to Stay, a Area for caravans where art and nature merge to delight young and old. You can even swim in the pool of this oasis, very close to the city of Faro.
Get to know all our spaces to stay overnight by downloading this guide and you will be able to travel throughout Spain and Portugal.