Falta poco para poder viajar por toda España, pero tanto ahora como más adelante es una buena oportunidad para conocer también tu propia provincia. Solo hay que saber qué sitios de interés visitar o donde pasar la noche. Por ejemplo, ¿sabías que Áreas Autocaravanas tiene algún camping o área registrado en cada zona estratégica de la provincia de Girona? Esta ventaja permite hacer la ruta perfecta por toda esta zona de Cataluña.
In this article we are going to know the most charming places in the province. The best thing is that its offer covers from beaches to mountains, with the Costa Brava and the Catalan Pyrenees as reference points. When you see them, you will not be surprised that they have inspired artists of the stature of Dalí.
Find a campsite on the Girona coast from where to move
The first area that we are going to visit, now that summer comes, is the Costa Brava. It covers the entire Girona coastline until reaching the border with France. Its name is due to the rugged landscape that predominates at many points. This has given rise to natural landscapes such as Islas Medas, one of the most important maritime reserves in the Mediterranean, or the Cabo de Creus.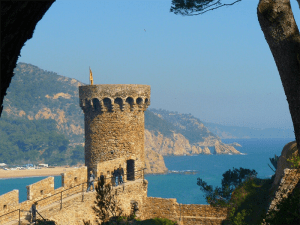 The latter not only stands out for the beauty of its rocky composition, but also for hosting the favorite town of Salvador Dali: Portlligat, in the municipality of Cadaqués. The surrealist painter established what is now his House-Museum. It is an old fisherman's house that Dalí bought and restored. If you pass by with your motorhome, we recommend this illustrative cultural visit.
Further south, Lloret de Mar It is another essential town if you visit the province of Girona. It is one of the most famous beach destinations on the Costa Brava. However, it also has monuments such as the Castillo de San Juan, with some spectacular Mediterranean views for its conception as a defensive fortress against maritime attacks.
Both Lloret and Cabo de Creus are accessible by motorhome. The Camper's Montgrí It is located between both points, making it easy to stay overnight and visit one of these places every day.
Inner paradise
But Girona it's not just beach. Going into the rest of the province we find much more. Your own capital is an example of this. The city preserves vestiges of other centuries and cultures that settled here. Crossing its walls is a journey to another era, among which we must highlight medieval jewels such as the Cathedral, where Romanesque, Gothic and Baroque are mixed. To complete the cultural fusion, the Jewish Quarter or the Arab Baths. We invite you to walk the streets of Old neighborhood and get to know these and other points of interest, such as some of the Game of Thrones scenarios. The Area of Girona It will give you the opportunity to have the city at your fingertips in a few minutes.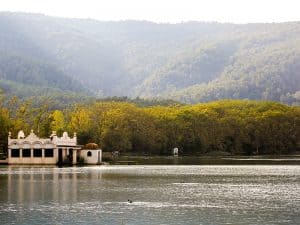 Returning to natural monuments, the Lake Banyoles it is the prelude to the Pyrenees. Declared as a Space of Natural Interest, your visit is a must to enjoy the outdoors in all its splendor. You can stay very close to there in your motorhome, since Camping the Lake It is one of our spaces in Girona.
To finish off this complete route, we could not forget one of the jewels of the province: the Catalan Pyrenees. There we will arrive to know a corner located between mountains and that will become an unforgettable visit. We talk about Nuria Valley. You will not be able to get there with the motorhome, since access is only enabled by rack railway or on foot from any mountain road, but we assure you that it will be worth it.
Now you just need to plan the days you will dedicate to this amazing trip. Remember that you must do it by taking the timely security measures. In Camper Areas we are available to help you with everything you need.