The beach of Seville at the Dock of Delicias, very close to the area of motorhomes
In an area of about 4,000 square metres and three swimming pools you can practice sports activities, surf, participate in a course of initiation to the diving and enjoy a sunbathing area.
The Port of Seville from tomorrow 23rd of June until the month of September, a space dedicated to the citizen that recreates an artificial beach urban. With the name of 'Seville Beach', this beach stretches along approximately 4,000 square feet in the Spring of the Delights and has several areas of entertainment for all audiences in which to practice sporting activities.
On the one hand, 'Seville Beach' have a hint of white sand situated between the restaurants Malaspina and Baluma. This space is intended for the practice of beach football, beach volleyball and racket beach and, in addition, it contains a pool of small dimensions for watervoley.
The beach is also another pool in which you can take courses of initiation and baptism of diving. This activity is aimed at those aged 12 years and coordinated by the University Club of Underwater Activities of Seville.
Another of the attractions of 'Seville Beach' is the wave of surf, this is a venue that recreates an artificial wave for the practice of this sport. Also, the beach has a sunbathing area installed next to the Aquarium of Seville with a swimming pool, sun beds and showers.
The opening hours are from 12.00 am to 1.00 of the night and the access to the exhibition is free, having cost the specific activities of scuba diving, wave surfing and the use of the sports courts and swimming pools.
'Seville Beach' is an initiative promoted by the Port Authority of Seville and developed by the company Pure Event in Andalusia, with the aim of boosting the relationship between the port and the city and provide a space for family leisure around the Basin of the Guadalquivir.
Source: Sevillaactualidad.com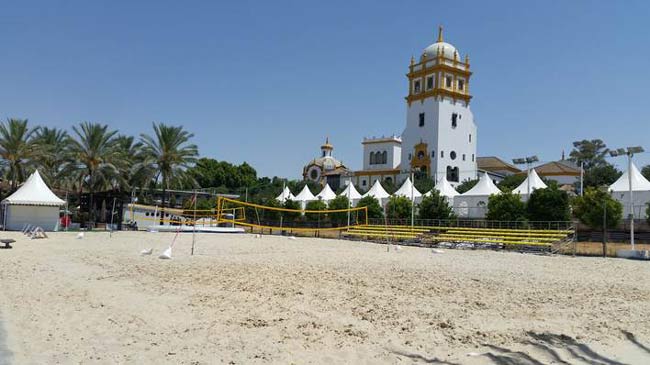 If you are autocaravanista, you can view more information about the area here: http://areasautocaravanas.com/area-de-sevilla/
For more information you can contact us here.