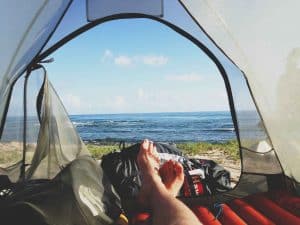 The gamping It was already in fashion since before 2013 in European countries like France. It is a form of accommodation in private gardens in areas surrounded by nature, away from crowded campsites and always with the idea of ​​living a camping experience more relaxing and welcoming.
Are many users to europeans who choose this way of traveling by gamping in an economic, safe and different way that now reaches Spain.
Within the various offerings of gamping you can find farms, vineyards or gardens where you can spend a very special and different camping night. Whether with a tent, caravan or motorhome. Depending on the host and the characteristics of the place, they accept one type or another camping item.
In Spain, the gamping offer is still small compared to France, where this concept emerged, which exceeds four hundred private locations. And from there it has spread to more than seventeen countries, some like Costa Rica, Kenya or Burkina Faso.
As a result of this "fashion" platforms arose to put the hosts in contact with their clients. Now, our platform allows hosts to register to offer their spaces. And for visitors to reserve the place where to spend the night.
Services included in the offer of gamping
Each host offers different services within its price, some include use of barbecue, swimming pool, picnic table, use of the bathroom or shower of the house, Wi-Fi, electricity, washing machine, dryer, private parking. Even a host offers to guide the area.
Not all the accommodations are the same nor the services they offer, but the variety of offer is always interesting.
Become a host and start to earn money
Sign up in areasautocaravanas.com as a host here. Upload your available spaces or experiences, their photos, the services you offer and start receiving reservations.
In addition, you can register spaces (areas), camping gardens and experiences of all kinds (routes, meals, sports, adventures ...), define the availability calendar and number of places you offer, the cost per night, person or service extra.
And always, if you have doubts, count on our team. Contact us whenever you want.