Swimming pool and sports area next to the Area of motorhomes Merida
When you plan a travel with your motorhome, preparas cúales monumentos son más interesantes, que museos tiene la ciudad, cual es la gastronomía o los platos mas recomendados, pero pocas veces nos acordamos de momentos de ocio y de descanso que puedes aprovechar para vivir más intensamente la visita o simplemente para relajarte.
En esta epoca del año y el verano que se acerca, ¿porqué no elegir un área de autocaravanas que tenga una piscina cerca? o más aún con pistas deportivas.
Con el calor que hace en Mérida, que mejor que darse un chapuzón para refrescarse y como no, para relajarse.
Ya son muchos los usuarios del área que conocen las instalaciones del Complejo polideportivo Argentina que se encuentran muy cerca y con precios muy asequibles ( 3,15€ para adultos y 1,55€ menores hasta los 14 años).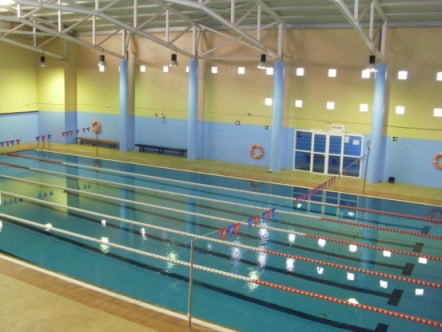 Los principales servicios del complejo polideportivo son:
* 1 Piscina climatizada (25×12 m)
* 2 piscinas al aire libre (grande y chapoteo)
* 2 pistas de squash
* Gimnasio
Dirección: Avenida de los Estudiantes, s/n
Phone: 924 330 409
Horario:
Lunes a jueves: de 9:00 a 15:00 h. y de 18:00 a 21:45 h.
Viernes: de 9:00 a 15:00 h. y de 16:00 a 21:45 h.
Sábados: de 10:00-13:45 h y de 16:30-20:15 h.
Domingos: de 10:00 a 13:45 h.
If you are autocaravanista visit the Area of Autocarvanas Roman Theatre, lugar donde estacionar y pecnoctar con todos sus servicios.
If you still don't know and want more information about it you can view the article here. If you wish to contact us you can do so from this link.