The Cádiz coast It offers us a wonderful variety of beaches, all of them of singular beauty that delight locals and foreigners. For this reason, travelers are attracted to this enclave in southern Andalusia, becoming one of the favorites for the motorhome community. Among all the possible options, in this article we are going to talk about the Beach of El Palmar, in which there is the possibility of leaving your vehicle in a motorhome area so that you can live this experience with total comfort.
El Palmar, Cádiz paradise with a wild soul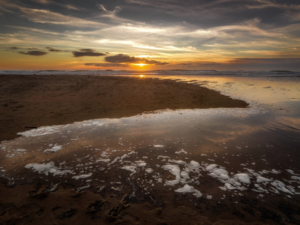 El Palmar beach belongs to the municipality of Vejer de la Frontera, which we highly recommend you visit, as it is considered one of the most beautiful towns in Spain. It is located on top of a hill from which you can enjoy the views of the surroundings and its aesthetic corresponds to the traditional stamp of Andalusian white villages, where whitewashed houses predominate.
Back at the motorhome area in El Palmar, we leave our vehicle there and visit this beach where we can enjoy a natural environment with several kilometers of beach. Although the number of visits has increased since the beginning of the century and, in addition, bars and shops have opened, the truth is that El Palmar still retains its wild soul. Time passes, but the natural enclave is still present for those people in love with nature in general and the sea in particular.
Nature, sport and leisure in the same enclave
The truth is that El Palmar beach has a series of plans for all tastes, which demonstrate its success as a destination for thousands of trips. We have already talked about its natural area, perfect for people looking for quiet and undeveloped beaches.
As for sports, this Cadiz beach has become a one of the favorite places for surfers, because he always has waves to take on the board. This surfing attraction has led to the opening of several specialized shops and the holding of competitions related to water sports.
Of course, we should not let the hotel offer pass us by, since there are several bars where you can eat or have a drink while enjoying the views of the beach. We highly recommend the time of the sunset (but no need to clap!).
Motorhome area in El Palmar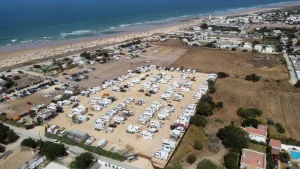 All this is at your fingertips if you travel in Perhaps you have been looking for some time or you have just decided to go to Seville to attend these two football festivals. Be it one or the other, have you considered going in, thanks to one of the latest additions to our platform. Is about Caravan Area El Palmar Beach, a privileged place among the spaces in the area with similar characteristics, since it is practically located on the beach and is open 365 days a year, with 24-hour security surveillance.
If you are planning your visit to El Palmar next year, you can now make your reservation for any time: Easter, summer, bank holidays... The season doesn't matter, you decide! Book online from Áreas Autocaravanas and you will have your place guaranteed immediately. You're still on time!