EDP ​​Half Marathon Sevilla 2018
EDP ​​Half Marathon Sevilla
More of 8.000 athletes They have confirmed their particiamación in Seville Half Marathon 2018, beating record participation, and which this year officially becomes part of the national calendar of the Royal Spanish Athletics Federation (RFEA).
As they indicated from the consistory, this historic event in the athletic calendar Seville continues to evolve and improve in recent editions, consequence of attracting runners from all provinces to become "a reference distance". Currently there inscritors brokers 47 nationalities of countries like Portugal, UK, Italy and France, totaling more than 120 runners. the total of other nationalities exceeds 500 participants.
EDP ​​Half Marathon Sevilla boasts 21 km of travel, beginning on Avenida Carlos III and goal in the athletics track of the Cartuja Stadium.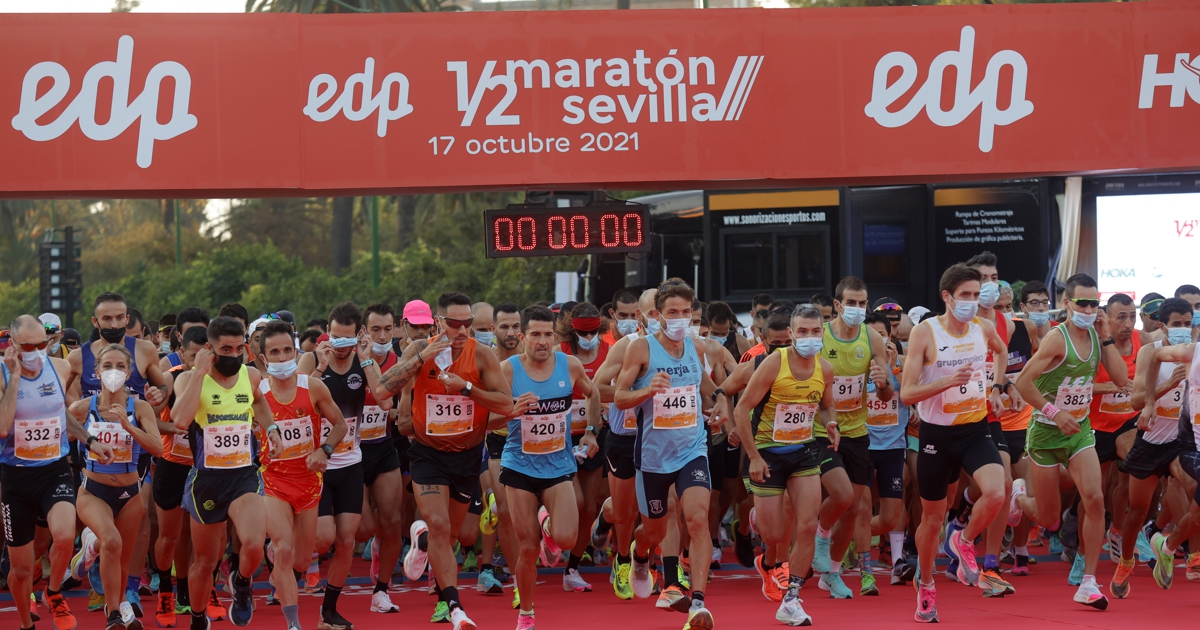 Travel Sevilla EDP Half Marathon 2018
The EDP Half Marathon is virtually flat Sevilla, without slope and very fast. It has a six-lane output and a target located in the Cartuja Stadium, where the World Athletics Championships held 1999.
Its distance is accredited by the Royal Spanish Athletics Federation. These characteristics, the time when held, with good weather and the passage of Seville's historic center and historic area, They make the test a wonderful opportunity to practice athletics or performing a test for the Seville Marathon.
EXHAUSTED ENTRIES- You can sign up on the waiting list in this Link
Athletics Club San Pablo de Sevilla organizes the EDP Half Marathon Sevilla, the 23th edition, to be held the day 28 of January of 2018, can participate all that person who has completed 18 years on that date, without distinction as to sex or nationality.
The circuit has a length 21.097 meters, being output in Avda. Carlos III and goal at the Estadio de la Cartuja. It will be done by ground and paved asphalt.
If you come to Sevilla with your mobile home, camper caravan
Come to our area and participate in the Half Marathon with maximum tranquility.
You can see more information about the area here: http://areasautocaravanas.com/area-de-sevilla/
Can do online reservation fee in the area of ​​Sevilla from here.
For further information please contact us here.
#areasautocaravanas #reservarareaonline
Online reservations for parking autocarvana - Book online motorhome parking – Reserve parking lot line - Book online parking space