Sevilla EDP Half Marathon 2018
EDP Half Marathon of Seville
Más de 8.000 atletas han confirmado su particiamación en la Medio Maratón de Sevilla de 2018, que bate su record de participación, y que en esta edición pasa a formar parte oficialmente del calendario a nivel nacional de la Real Federación Española de Atletismo (RFEA).
Según indican desde el Consistorio, esta prueba histórica en el calendario atlético sevillano sigue evolucionando y mejorando en las últimas ediciones, consecuencia de atraer a corredores de todas las provincias para convertirse en "un referente de la distancia". Actualmente hay inscritors corredores de 47 nacionalidades de países como Portugal, Reino Unido, Italia y Francia, que suman más de 120 corredores. el total de otras nacionalidades supera los 500 participantes.
El EDP Medio Maratón de Sevilla cuenta con 21 km de recorrido, iniciandose en la Avenida Carlos III y con meta en las pistas de atletismo del Estadio de la Cartuja.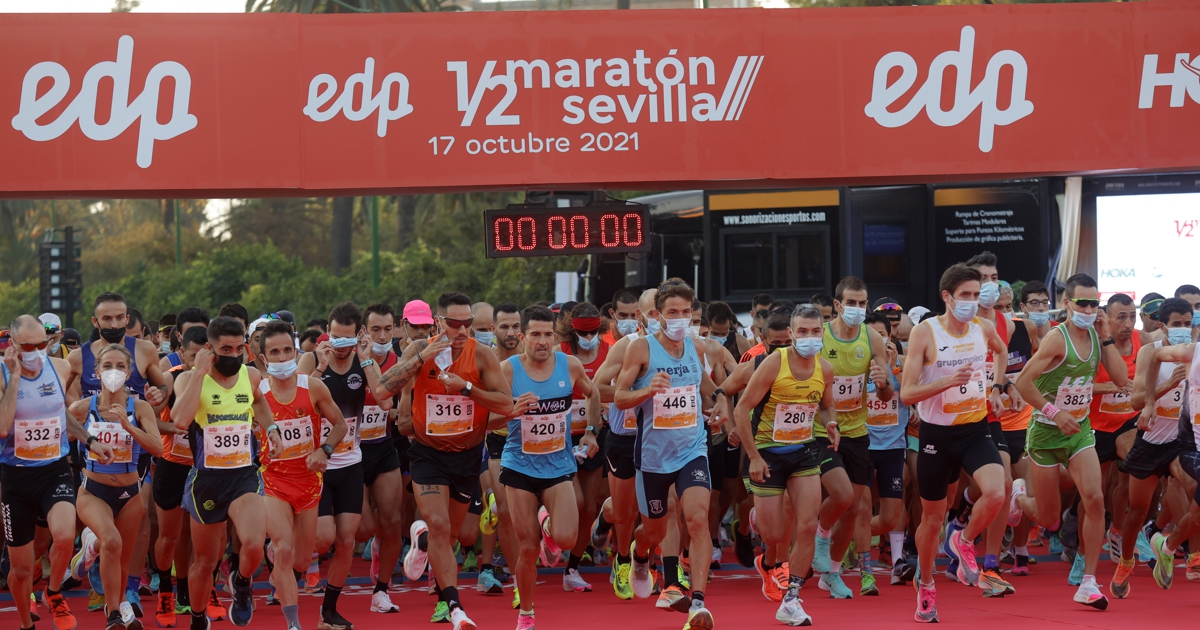 Recorrido del EDP Medio Maratón de Sevilla 2018
El EDP Medio Maratón de Sevilla es prácticamente plano, sin desnivel y muy rápido. Dispone de una salida de seis carriles y una meta situada en el Estadio de la Cartuja, donde se celebró el Campeonato del Mundo de Atletismo 1999.
Su distancia está homologada por la Real Federación de Atletismo Española. Estas características, la época en la que se celebra, junto a la buena climatología de Sevilla y el paso el centro histórico y zona monumental, hacen de la prueba una magnífica oportunidad para practicar atletismo o realizar un test para el Maratón de de Sevilla.
INSCRIPCIONES AGOTADAS-

You can sign up on the waiting list in this Link


El Club de Atletismo San Pablo de Sevilla organiza el EDP Medio Maratón de Sevilla, la 23ª edición, que se celebrará el día 28 de enero de 2018, pudiendo participar todo aquella persona que tenga cumplidos 18 años en dicha fecha, sin distinción por sexo o nacionalidad.
El circuito tiene una longitud de 21.097 metros, siendo la salida en la Avda. Carlos III y la meta en el Estadio de la Cartuja. Se realizará por terreno asfáltico y pavimentado.
If you come to Seville with your motorhome
, camper o caravana
Ven a nuestra área y participa en el Medio Maratón con la máxima tranquilidad.
You can view more information about the area aquí: http://areasautocaravanas.com/area-de-sevilla/
You can perform online booking of square in the Area of Seville desde aquí.
For more information you can contact us here.
#areasautocaravanas #reservarareaonline
Book online parking for autocarvana – Book online motorhome parking – Réservez en ligne aire de stationnement – Online buchen Stellplatz