Live a Halloween very special with the kids at the Castle Guards
A sólo 50 kilómetros de Sevilla, entre los restos de una antigua mina de cobre y rodeado de un a privileged natural environment, se encuentra la reserva del Castillo de Las Guardas. Se trata de one of the largest and most spectacular animal parks of europe, donde conviven más de 1000 animales de más de 100 especies diferentes en condiciones similares a las de su hábitat natural.
Con autocaravana, ¿dónde pernoctamos?
Asegura tu espacio reservando online y ven al Área de la Reserva del Castillo de las Guardas, donde you'll be able to spend the night without any problems with your motorhome. Lo mejor es realizar una visita sin prisas, llegando la noche anterior para ser los primeros en entrar al parque, o quedarse a descansar junto al Parque de Animales tras un largo día de diversión.
Por la noche, con la ventana abierta de tu autocaravana, you can listen to the sound of the animals in the dark. Te sentirás en comunión con la naturaleza.
A fascinating tour
Un recorrido en tren o en coche de unos 15 km aprox en compañía de leones, osos, elefantes, cebras y muchas especies más que se acercarán a conocerte. Podrás encontrar también algunos cachorros, ya que la reserva es one of the few places where animals reproduce in a natural way.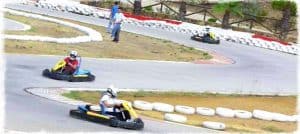 Much more than a game reserve
Por si fuera poco, en la reserva del Castillo de Las Guardas no sólo hay animales y espectáculos. También puedes realizar variedad de fun filled activities for young and old. Entre ellas se encuentran paintball, multiaventura, paseos en barca, parque infantil y otras muchas dependiendo de la temporada del año.
Book online and secure your entry to the park
No lo dudes, obtén more information in this link y reserva tu espacio para autocaravanas en el Castillo de Las Guardas.