We were looking forward to giving you this news! We are already in Africa. Our platform Motorhome Areas arrives in Morocco with its first space for motorhomes, caravans, campers and minivans. And nothing less than at the gates of the Sahara.
This is the area of Auberge Les Roches, in Merzouga, next to the extensive dunes of Erg El Chabby. These arenas are one of the main tourist attractions in the area and have a legend behind them. They say that they arose after a sandstorm, the result of divine punishment towards the ancient town of Merzouga for not helping a family. Whether or not this story is true, what we can assure you is that the current urban center is a quiet town in which to disconnect. Despite being in the desert, we assure you that it has all the comforts for tourism.
What services does Auberge Les Roches include?
The first space of Motorhome Areas in Morocco maintains a Moroccan aesthetic in keeping with the environment, which delights all who stay. A cultural immersion that will be completed by tasting the typical dishes of the country in its restaurant, such as couscous or tajin.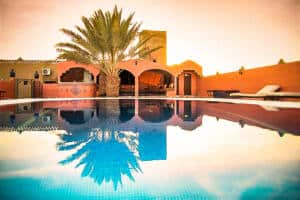 Auberge Les Roches is equipped with all kinds of services for our travelers, who can enjoy the hospitality and comfort of the area. Its parking is enabled to leave the vehicle there with total security, as they have video surveillance 24 hours a day. In addition, the exterior rooms include a large pool to take a refreshing swim in the middle of the desert.
Unforgettable experiences in the dunes of the Sahara
Have you never been to the desert? Or have you been and want to go back? Be it one way or another, Merzouga and its dunes await you to live an adventure that you will keep forever. At the Auberge Les Roches itself you can hire various activities, among which the camel rides. Imagine touring the Sahara at sunset. You have to do that at least once in your life!
Motorhome areas abroad
Auberge Les Roches has been the premiere of Motorhome Areas in Morocco, but it is not our first case in other countries. For a few months, we have several areas in Portugal. More specifically in Algarve, Alentejo and Peniche.
Get back to the thrill of international travel with Áreas Autocaravanas! Registration is completely free and you have the App available at Google Play and App Store, so you can make your reservation from anywhere with your smartphone.